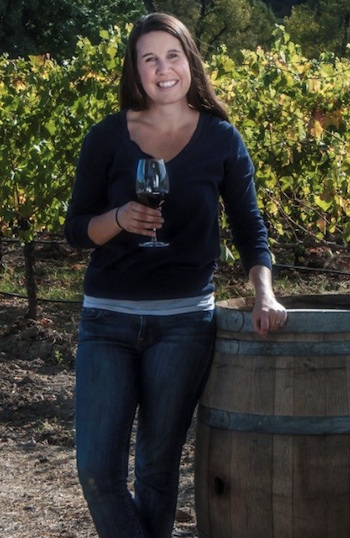 Ashley Herzberg came to love wine early in her life. Her parents had a role in this, instilling in her the importance of cooking and eating together as a family and having wine on the table at mealtime. Despite this exposure, however, Ashley initially intended to attend medical school after earning her university degree in Chemical Engineering at the University of Nevada, Reno. Four years of working in a hospital convinced her that medicine was not her calling, and modified her career goal by turning to the wine industry. Her background in science and engineering came in handy when she accepted a job as a laboratory technician at Owl Ridge Wine Services in Sebastopol.
At Owl Ridge, Ashley quickly moved up from Lab Technician to Lab Manager, benefiting from valuable mentoring by some of the top Pinot Noir vintners in California such as Merry Edwards, Greg Lafollette, Anthony Austin, and Scot Covington. Because it was a custom-crush facility with over 40 clients at the time, Owl Ridge provided her with the opportunity to gain the perspective and knowledge that would prove invaluable as she moved on in her career.
By mid-2007, Ashley found herself at Mauritson Wines as Enologist and soon was named Assistant Winemaker. She is now the Consulting Winemaker for Amista Winery, Bacigalupi Vineyards, and Saini Vineyards, all of which are in Sonoma County. Ashley is involved in crafting a number of varietals, including Chardonnay, Pinot Noir, Petite Sirah, Zinfandel, and Cabernet Sauvignon.
She and her husband David, who is also a winemaker, enjoy camping, traveling and spending time with their two small children.