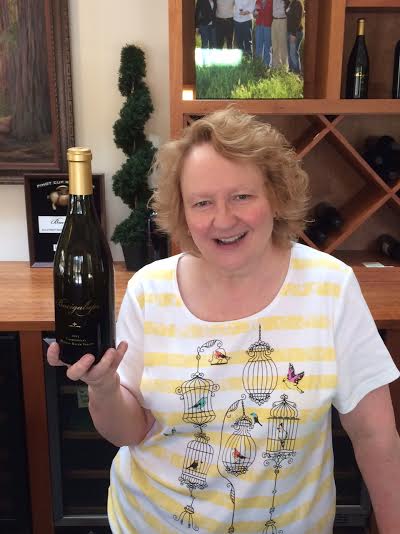 "I grew up on a ranch in Wishek, North Dakota, the sauerkraut capital of the US. I lived in SLC, Utah for 1 year, moved to New England and lived in Massachusetts and Rhode Island for 14 years before moving to Colorado where I lived for another 14 years. I relocated to Sonoma County in 2005. I now work as a speech pathologist and rehab
manager during the week but always look forward to my Saturday at the Bacigalupi's tasting room. I love meeting new people and seeing the familiar faces that return. It is so great to talk about wine! I get just as much pleasure from teaching as I do learning from our customers. My passion for wine has developed over the years. We didn't do a lot of wine pairing with sauerkraut back in North Dakota, but I did learn the trials and tribulations of farming and have a deep appreciation for what it takes to produce a quality product. We didn't use words like organic,
biodynamic or sustainable there but we certainly lived it. After discovering the joy of wine tasting
in Sonoma County, I decided to study for a wine business certificate from Sonoma State in preparation for my retirement plan and working in the wine business. I was lucky enough to find my job at Bacigalupi Vineyards and have never looked back!" ~
Patti LaChance
If you've been in our tasting room on a Saturday, Patti may have told you about her famous lemon chicken while pouring the Chardonnay and we are so lucky that Patti has decided to share her recipe with us! Next time you visit, let us know if you've tried it. It's sure to be a hit in your family as it is with Patti's family!
"The Bacigalupi Chardonnay is always my wine of choice for both the preparation and the pairing with this meal. I serve it with rice pilaf and honey glazed carrots. Sometimes I plan to make this dish just to have an excuse to open a bottle of our delicious Chardonnay. Enjoy!" ~ Patti LaChance
Lemon Chicken
Makes 8 servings
Ingredients:
1/4 cup butter or margarine
4 Whole chicken breasts, split, skinned and boned
2 tablespoons of Bacigalupi Chardonnay
½ teaspoon grated lemon peel
2 tablespoons fresh lemon juice
¼ teaspoon salt
1/8 teaspoon white pepper
1 cup heavy cream
1/3 cup grated Parmesan cheese
(Parmigiano Reggiano)
1 cup sliced mushrooms (optional)
Directions:
Melt butter in large skillet over medium heat; add chicken. Cook, turning, about 10 minutes or until chicken is brown and tender. Remove chicken to ovenproof serving dish. Discard butter from skillet. Add wine, lemon peel and lemon juice to skillet; cook and stir over medium heat 1 minute. Stir in salt and white pepper. Gradually pour in cream,
stirring constantly until hot; do not boil. Pour cream sauce over chicken; sprinkle with cheese and mushrooms. Broil chicken about 6 inches from heat source until lightly browned. Garnish with lemon peel.